Town of Windsor's 120th Birthday: A celebration - Saturday, March 12, 2022 at 2pm in the Windsor Town Center
TOWN OF WINDSOR'S 120TH BIRTHDAY: A Celebration of History & Railroading
Saturday, March 12, 2022 at 2 p.m.
Windsor Town Center, 23361 Courthouse Highway, Windsor, VA 23487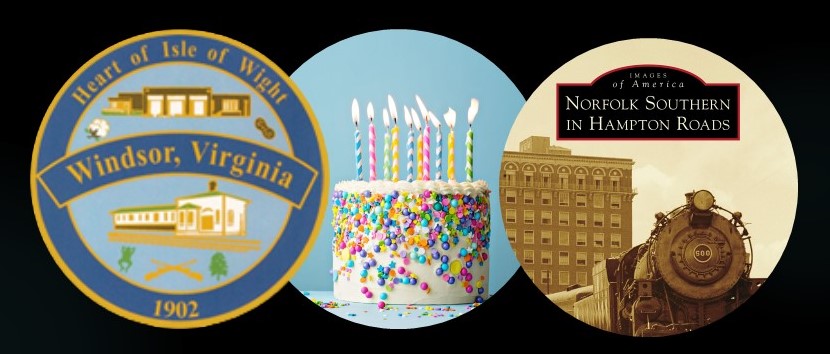 Today is a celebration of the town of Windsor's history and railroading. Windsor was founded on March 15, 1902, but Windsor Station was established by the Norfolk & Petersburg Railway in 1859.

Today's program will feature author Elizabeth Cooper as she discusses her book Norfolk Southern in Hampton Roads.

Norfolk Southern Railway's history in southeastern Virginia began in the mid-19th century when a young civil engineer named William Mahone designed an innovative 12-mile-long roadbed through the Great Dismal Swamp that is still in use today.

Trees were felled and laid side by side at right angles beneath the swamp's surface, forming a corduroy road, with the roadbed built on top of the logs. The logs sank into the boggy swamp, where they were preserved. Nearly 170 years later, Mahone's corduroy design continues to serve as a major route for Norfolk Southern traffic, supporting millions of tons of freight each year as the railroad provides extensive service throughout Hampton Roads. One of the nation's largest Class 1 railroads, Norfolk Southern was created through the merger of Roanoke-based Norfolk & Western Railway and Washington, DC-based Southern Railway in June 1982.

Today, Norfolk Southern trains move coal and other items through Windsor daily on their way to the port of Virginia.

Following the lecture will be birthday cake and the opportunity to purchase a copy of Ms. Cooper's book.

There is no charge for this event, but attendees may be asked to join in a spirited rendition of Happy Birthday.
Join us for this fun historical event at Windsor Town Center, 23361 Courthouse Highway, Windsor.
MEET BETH COOPER
Elizabeth Ownley Cooper worked as an editorial consultant for Norfolk Southern Corporation's Corporate Communications Department from 2011 to 2019. A graduate of the University of North Carolina at Chapel Hill, she is an award-winning writer and public relations consultant in Suffolk, Virginia. She is also the author of Historic Hotels and Motels of the Outer Banks for Arcadia Publishing.